Yulia Alba

Yulia Alba is Melbourne-based artist with more than 20 years of experience in design. Being raised in a creative and artistic family has certainly influenced Yulia's career choice. Since her early years, she always engaged in creative work and eventually became a designer, after studying art and design in Israel.
During her short time in Australia Yulia has managed to firmly establish her brand "Birka" locally and internationally. Birka is a love story. A love for glassworks and jewellery. Yulia gets inspiration from everything around her - sound, music, nature, colour and her travels. She creates each piece with love, from the concept to the final touches.
Yulia also participated the Australian Festival of Glass and for two years in a row won an award for her creations.
Evgeniya Lisichkina
Evgeniya Lisichkina is Sydney-based jewellery designer. After graduating as a designer of shoes and accessories, Eugenia switched into fashion journalism. She had obtained a degree in journalism and after that in sociology at the Moscow University and had been working as a beauty and fashion editor in a number of glossy magazines for 10 years. She had been writing for such magazines as Vogue, ELLE and Marie Claire. Always passionate with design, she decided to create her own brand of jewellery and accessories - JaneJu - whilst developing her skills in silversmithing and precious stone setting.
For many years she practices suibokuga, Japanese ink-painting, so her style is noticeably influenced by Japanese arts. "I have always loved to make things with my own hands, and fulfilled career in fashion journalism enriched and intensified my desire to create. It is a greatest pleasure for me – the process of creation. My main inspiration for the Down to Earth line is Australian nature, its generosity and fascinating beauty. All the pieces conceived fully hand-crafted looking as if they were growing, not manufactured: the adornments of wood nymphs with fingers entwined with grass and flower buds, captured in silver and stones, treasures of mermaids spellbound with corals and sea flowers. In contrast to them my Up to The Sky line consists of contemporary pieces, minimalistic and meaningful. Freeform nuggets and tumbled or hand-cut gemstones – as immaculate as they can be – are revealing their natural beauty in plain but still unusual designs, Most of them are named after a special property connected with the character and energy of stones: Equilibrium, Clarity, Tranquility. For me Up To the Sky and Down to Earth reflect the balance of our terrestrial and celestial halves, each of them being beautiful and sensual in its own way.
We possess all the qualities of celestial beings - pure and almighty, as a part of the whole with the properties of the whole; but our earthly part is divine too –like Naiads and Dryads living inside us. Like tree roots or water streams they connect us with the energy of elementals, with that nurturing and liberating power of women's nature. I often use double-metal design – silver and gold or blackened silver and rose gold in one piece - as the symbols of Moon and Sun, day and night powers. As for gemstones I prefer to work with freeform nuggets, tumbled stones, chunks and chips, trying to reveal (or not to conceal) their sheer nature".
Evgeniya is a member of the Union of Artists of Decorative and Applied Arts in Russia. Her jewellery was featured as the editor choice in Marie-Claire Magazine and Stylebook of Glamour.

Phaedra Gunn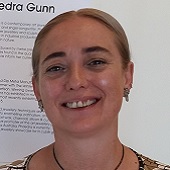 Phædra Gunn (Ad Dip Metal Manufacture-jewellery) is a contemporary art jeweller, mixed-media sculptor and singer-songwriter/performer with The Winterfriends. Winning awards for her art since childhood, Phædra has exhibited in numerous group shows since 1977, most recently exhibiting at in.cube8r gallery in May 2017.
Phædra takes her inspiration for her jewellery from colours and forms occurring in industrial production processes and patterns found in nature. The textures produced by metal pressing and printmaking, and the structures found in the quantum world and in the global water cycle inform her visual arts practice. Her preferred jewellery techniques are traditional Grisaille and Scraffitto enameling, patination, and multi-media casting via lost-wax, charcoal, silicon & cuttlefish techniques.
An active promoter of the art jewellery genre in Melbourne, Phædra's Bespoke Baubles brand is the exhibition sponsor for the Art of Adornment exhibition series.
Exhibitions:
• The Art of Adornment (Curator & Sponsor) – May 2017, in.cube8r gallery, Fitzroy
• The Art of Exploration – 24 March 2017, Ryazanoff Gallery, Albert Park
• Book in a bag - July 11th 2015, 69 Smith Street Gallery, Collingwood
• Looking Forward, Looking Back - April 14th-May14th, Gallery Voltaire, North Melbourne
• Melb Fringe Fest The Art of the Cuff - Sep16th-Oct 4th 2014 & Sep15th-Oct3rd 2015, Lord Coconut , Melbourne
• MAYD 4 MEMBERS - May 21st-June 8th 2014, 69 Smith Street Gallery, Collingwood
• Aerial - May 21st-June 8th 2014, 69 Smith Street Gallery, Collingwood
• Duopoly - 2010, Charles Smith Gallery, Collingwood
• Profile - 2008, NMIT graduate exhibition, Fairfield
• Firsts - 2006, Charles Smith Gallery, Colligwood
• Postcards from the Mornington Peninsular – Oakhill Gallery in conjunction with the Mornington Tourism board, 2006
• Linden Postcard show (open entry of works under 300 x 300 x 300mm) – Linden Gallery, 1997-9, St Kilda
• Lions Art Show – Cranbourne, 1977
• Royal Overseas League Art Show – Melbourne, 1972

Oleg Zakomorny
All my life is devoted to work, and my family and friends give me the most invaluable help and understanding in my commitment. Me and my works would have never been brought to life without them. My dream is that children, the tomorrow's masters of the Earth, would see violence only on the athletic arenas and their World would be Kind and Beautiful. The path to perfection is endless, but beautiful and, perhaps, my aim is to find harmony and to create art that is sincere and vivid. Guided by the experience of the antecedent masters and esteeming traditions I endeavour to find my way.
Born in 1968. Graduated from Moscow Secondary Art School named after Tomsky in 1986. Graduated from Moscow State Art University named after Surikov in 1994, studied at the studio of professor Lev Kerbel. Member of the Moscow Union of Artists since 1996. Holder of the Ministry of Culture scholarship in Russia, 1997. Regularly participates in exhibitions in Russia and abroad. Lives and works in Moscow.

Jean Sheridan
Natalia Veselova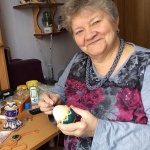 Beadwork is known since the days of Ancient Egypt. At that time beads were embroidered in patterns on the royal clothes. In ancient Russia in the Middle Ages, beads became a material for embroidering paintings on the embroidery frame, an ornament for headdresses, outfits and books. This craftwork was handled by all girls and women of the upper class. By the 21st century, beadwork spread all over the World. Each country brings its own piece of culture into this unique craftwork. Many people still practice this craftwork in Russia.
Natalia Veselova has been engaged in beadwork for more than 15 years. She creates beaded Easter eggs of high quality, icons, makes different beaded pictures, colourful Christmas balls, unique jewellery and much more.
Natalia talks about her work:
"I love working with beads. It is always a relaxing and enjoyable time for me when I create something special. I love teaching others this unique craftwork. The endless variety of colours and patterns are the key to this unique work. Every new piece takes me on a personal journey of fulfilment and enjoyment".
Natalia has her own workshop in Moscow, Russia, where she is sharing her passion and knowledge of beads with people of all ages.
 Valentina Kordonski
Tanya Korin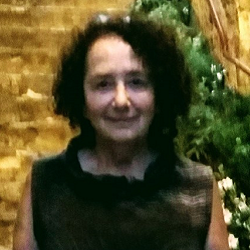 SCULPTOR-PAINTER
Masters degree in mechanical engineering from the Polytechnic University.
Since 1976 live in Melbourne and had built career in travel industry, using the associated travel benefits to explore culture and art around the world.
But it was not until beginning of the new century that I could invest time in my favourite pursuit of creative art.
I developed my technical skills of making ceramics through Box Hill TAFE, realising that my interest was focused on sculptural forms rather than functional ware.
Some private tuition, numerous workshops and classes, Tom Bass school of sculpture in Sydney, Visual arts diploma at CAE and Swinburne TAFE course.
My interest has widened from clay to casting in bronze, carving lime stone and painting. Lately I am also experimenting with metal.
Both paintings and sculptures are my emotional interpretations of nature and its organic fluidity which constantly changing through time and calamities, creating corrosion, cavities, canyons- a metaphor for transformation of harmony and balance into new forms.
Negative spaces in sculptures play an important part in my work.
The "inner spaces" I create are my intuition, dreams, memories, imagination.
They are emotional landscapes.
The viewers are invited to respond according to their imagination, memories, intellect and life experiences.
Through the years I had group and solo exhibitions. The latest solo exhibition in Kyoto, Japan in 2017.
Private collections in Australia, USA, Europe and Japan .